Make Imports From China Easier & Simpler
The Top China Yiwu Sourcing Agent
One-Stop Sourcing Service
As a professional Yiwu sourcing agent & sourcing agent China in Yiwu international trade city, Yiwu, China, Goldenshiny helps foreign importers source a wide variety of products from various suppliers. Moreover, we will track orders, run quality control, do the inspection, provide warehousing, load container, declare China customs and proceed to ship. Above one-stop service greatly makes importing from China easier and simpler.
2-1:  You need to prepare the product list and details. The product photos will be beneficial for us to understand your products. (We DO NOT have product catalogs as we are a sourcing agent NOT a factory. But we have a high-quality supply chain to help you source the right products at the right price)
2-2:  You need to send product details (e.g. photos) to us (See examples screenshot below point 3). We will set up a team in a WhatsApp group to discuss and confirm everything about the order.
2-3:  We will start sourcing and quoting the prices for your products.
2-4:  We will issue 1st invoice for you to double-check before you make payment.
2-5:  You need to wire transfer payments to us via a bank counter or online banking.
2-6:  Orders will be processed after receiving your payments.
2-7:  We will collect goods in our warehouse after suppliers finish production.
2-8:  We will provide warehousing service for your goods before shipping.
2-9:  We will inspect the goods and report for your approval in the below forms: video call, photo, and video. (Click to watch videos on our YouTube channel)
2-10:  After you accept the Q&C results and approve the shipping charges, we will issue 2nd invoice for you to transfer the inland cost and shipping cost to us. Next, we will arrange to ship. (Click to choose which shipping method you need)
2-11:  We will process and finish China customs clearance for your shipments when we receive inland charges and shipping costs.
2-12:  We will send the necessary documents (B/L, invoice, packing list, other required documents, etc.) for you to clear customs when the goods arrive port of discharge in your country.
2-13:  Your Total Cost To Import From China.
2-13-1:  Products Payment (our commission is charged based on this payment).
2-13-2: Inland Charge (from product location to nearest loading seaport. For example, we are in Yiwu city and Keqiao textile city, and the nearest loading seaport is the Port of Ningbo).
2-13-3:  Shipping Charge (from loading port in China to destination discharge seaport).
2-13-4:  Commission.  (Check above points 1-4 about commission structure)
2-13-5:  Customs Clearance Fee (the charge you need to bear to get your cargo from destination seaport customs, which is your country seaport customs).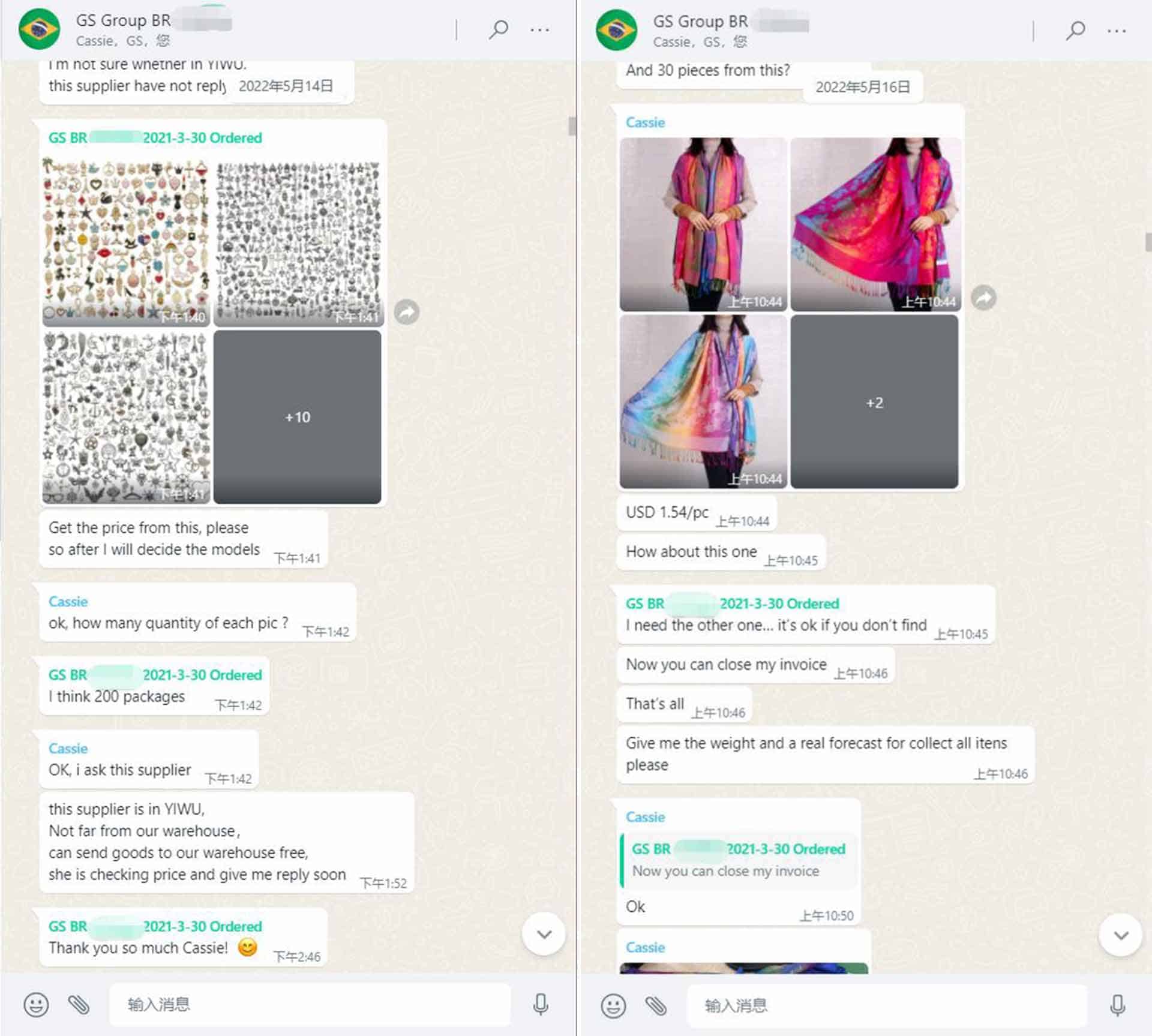 If you receive unqualified products:
4-1:  Send us photos and videos of unqualified products as proof.
4-2:  We will verify with suppliers, warehouse, and shipping forwarders, etc.
4-3:  We will refund the payment for unqualified products or replace them with new products for your next shipment.