What Is This Article About?
This article gives you full Introduction for 2 Floor Section G District 2, Yiwu China Wholesale Market, by Goldenshiny, the professional China Agent in Yiwu Commodity Market. You could also check what products are on 1st floor and 3rd floor and 4th floor in blog.
About Yiwu China Wholesale Market
The Yiwu China Wholesale Market, known as Yiwu Commodity Market or Yiwu Futian market. It's the world's biggest small commodity trade hub, does have an index, called Yiwu commodity index or Yiwu index in short, which is used for predicting market prices. The buyer, seller and China agent make up Yiwu trade industry.
When buy comes to Yiwu wholesale market, they will probably need a China buying agent to work with. For example, the agent will help buyers find proper suppliers quickly in the Yiwu China wholesale market, so you will not waste so much time. To clarify, the Yiwu market has over 70,000 suppliers from districts 1 to 5. Therefore, it would take you weeks searching in the market without a professional China agent.
What products on 2nd floor?
In short, the main products on 1st floor G section district 2 in Yiwu China Wholesale Market are hardware tools & fittings, vehicle class, vehicles. Meanwhile, good quality and competitive price are the most reasons attracting worldwide buyers coming here to do business. In fact, variety quality from mature markets of Europe / America to emerging markets of Asia/Middle East/Africa are all available
Moreover, suppliers can customize your products based on your own requirements. Clearly, Yiwu Commodity City is more of a wholesale market instead of retail. By the way, customization is the primary need for lot buyers.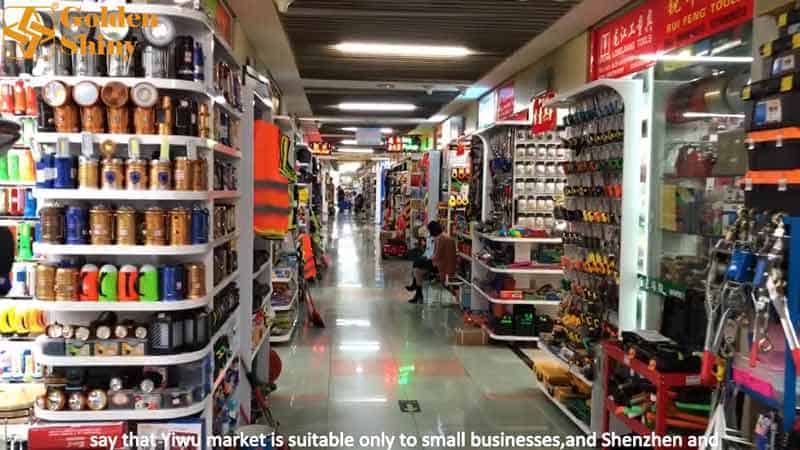 Strength of Yiwu China Wholesale Market
Firstly. MOQ is negotiable. You can find a small MOQ for the off-the-shelf item with the best price in Yiwu China Wholesale Market.
Secondly. Suppliers are intensively gathering in a given aisle upon their product categories, therefore, it makes it easier for you to inquiry and compare prices.
Thirdly. Convenient global logistics system. It takes care of products you purchase from Yiwu to your home the whole way, under a professional China agent like Goldenshiny.
Fourthly. The centralized Purchasing Center is separated to cater to large buyers.
Lastly. A competitive price is guaranteed in Yiwu Commodity Market.
Above all, below is the information about Yiwu China Wholesale Market in the view of a professional China Agent. So, what valuable service we can provide for customers to make everything easier? Below are our OSSS (One-Stop Sourcing Service):
Firstly, Airport pick-up
Our car team service will make the sure customers come to see us right away. Although this is not a very big issue to customers with the convenient transportation system in China nowadays, we still believe excellent service needs to be maintained in a professional way.
As one of the best China agents in Yiwu city, we choose the proper suppliers for customers either in Yiwu China Wholesale Market or direct manufacturer, which depends on the products customers want to purchase. Basically, you could find almost all types of fabrics in the Yiwu China Wholesale Market.
More importantly, as a professional China Yiwu Agent, we know every corner in Yiwu Market. Moreover, customers might want to deal with direct factories instead of the Yiwu market. This is also no problem for us as we have over a hundred suppliers' teams to choose from. To sum up, guiding customers to manufacturers is just as same as we do in the Yiwu market, China.
Thirdly, Order Tracking
After customers leave Yiwu China Wholesale Market with all confirmed orders, we will step in to track all order status. This is to make sure the lead time, delivery time, quality, quantity, the product specification is all approved. Then keep customers posted on every situation for every order they placed in the Yiwu market, China.
Fourthly, Quality Control
As a professional China Yiwu sourcing agent, our quality control includes 3 phases.
Firstly. Confirmation sample. This step is just to confirm that the products customers ordered are perfect in quality, quantity, package before production starts.
Secondly. Production sample. The supplier will start production based on the confirmation sample, but still, we need to check what the real production product looks like, this is a necessary procedure to avoid any mistake or misunderstanding between customer and supplier.
Lastly. Vessel sample. After production is done, we will do 20% randomly testing on all products which are ready to ship. It is our quality control for customers as a China agent in Yiwu, China.
The good thing to have our own warehouse in Yiwu city is to have everything under control. Moreover, there is usually more than one supplier to manage. For example, the goods in one container are from over 10 different suppliers.
So, as customer's agent in the China Yiwu market, not only do we need to do the above procedures, but also we need to collect all products in our warehouse on time after quality control before shipping. In short, making all products ready in the warehouse will be very helpful for us to proceed to ship.
As a top Yiwu sourcing agent. Firstly, we start with the large and heavy items and load them on the floor against the front wall of the container. Secondly, continue loading heavier items on the floor and towards the front of the container, placing lighter items on top. Lastly, pack the items tightly so nothing moves. Work the way along in tiers loading from bottom to top. Moreover, look at the spaces in the tier and put an item to fill that space if possible. In short, packing and loading the container well is the key to getting our shipment in good shape the other end.
In general, shipping is about document work. With that being said, as a top Yiwu agent, we will confirm with customers for packing list and invoice or other required paper like CO (Certificate of Origin), Embassy Certificate, fumigation certificate, etc.
The next is to book the container after the above paperwork is confirmed. As a result, the goods will be shipped just fine based on above all procedures done perfectly. Furthermore, as professional Yiwu agents, we will continue to coordinate with customers on clearing customs when there is something we can assist. All these processes just to make sure customers will get products on time at the destination seaport.
Yiwu China wholesale market guide for each District
1F: artificial flower, flower accessories, plush toy, plastic toys, ordinary toys, air inflated toy, electric toy, common toy.
2F: hair ornament, jewelry.
3F: festival arts, decorative arts, porcelain, ceramic crystal, tourist arts, travel crafts, photo frame, jewelry accessory.
4F: hall of Taiwan merchants, direct sale center of manufacturer, factory outlets.
1F: Fujian Mall (umbrella), poncho, rain wear & pack, umbrellas, poly bags, suitcase & bags (schoolbags).
2F: locks, electric products, hardware tools & fittings.
3F: kitchenware & sanitary ware, home appliance (shaver).
4F: Anhui Hall, Hongkong Hall, Sichuan Hall, Korean Commodity Hall, Yueqing low-voltage apparatus, hard ware & electric appliance.
5F: foreign trade organization agency, roof parking lots.
1F: suitcases & bags (schoolbags).
2F: hardware tools & fittings, vehicle class, vehicle.
3F: clock & watches, telecommunication equipment, electronic instrument photographic equipment, batteries light & lamp & flashlight.
4F: electronic, products luggage area, clock & watches.
5F: foreign trade organization agency, featured products, export agencies, roof parking lots.
-1F: the year picture calendar couplet, wall calendar & couplet.
1F: pens & ink, paper articles, glasses.
2F: office supplies & stationery, recreation sporting articles, sport equipment.
3F: cosmetic, beauty products, mirrors & comb, beauty products, apparel accessories, accessories.
4F: cosmetics, stationery & sporting articles, factory outlets-cultural & sports, factory outlets-apparel accessories, factory outlets-cosmetics/beauty products.
5F: the imported commodities mall, off parking lots.
1F: sock, leggings, atrium, indoor parking lot.
2F: hat & cap, gloves, other knitting products.
3F: towel, wool yarn, shoes, lace, necktie, tie, lines, caddice, sewing thread & tape.
4F: scarf, belt, bra & underwear.
5F: shoes, daily necessities, garment, tourism and shopping center, frame/accessories.
1F: heathy products, heath care products, handicrafts, clothing shoes and hats, other imported goods, jewelry, textile & others, food liquor, clothing & household articles.
2F: bedding, Chinese knot, DIY handicraft.
3F: knitted fabric, curtain fabric, fabric & textile raw materials, needle woven fabric.
4F: car necessities, auto supplies.
5F: online services, virtual shops.
In short, above are all products in the 5 districts of Yiwu market. Meanwhile, Yiwu is still building other markets to attract more customers in the future. However, we will update our blog soon.
Click links to know more who we are, what service we have, more blogs about Yiwu Market Guide, Keqiao Market Guide, Sourcing Case, Shipping Case and Featured Case.
About more questions like cost, commission, payment term, shipping procedures, video presentation, etc. You are welcome to visit our FAQ page to get more information.