What Is This Article About?
This article gives you introduction about Yiwu market guide in Yiwu international trade city. Guided by Goldenshiny, the professional Yiwu market agent in Yiwu, China. You can consider this as Yiwu market guide as well. Moreover, you could also check what products are on 1st floor and 3rd floor in blog.
About Yiwu International Trade City
In short, Yiwu International Trade City is famous to lot buyers, also known as Yiwu Futian market. Clearly, you can find tens of hundreds of products here, and the booths here are quite lot, both for wholesale and retails, but mostly are for export.
To clarify, the buyers are usually trading companies and buying office in Yiwu. For instance, many local Yiwu market agents are the direct buyers, and they also responsible for shipment and shipping. Therefore, many booths here don't know where their products going, Yiwu market guide is also one part job to many export company and agents.
What products on 2nd floor?
Products on the 2nd floor, District 1, Yiwu International Trade Market: hair ornament, jewelry.
with our rich experienced Yiwu Market Guide, you can finish your sourcing task easily. Moreover, you do not have to worry about shipping products. So how are we going to deliver products to your hand in your country? We will detail you in the next paragraph.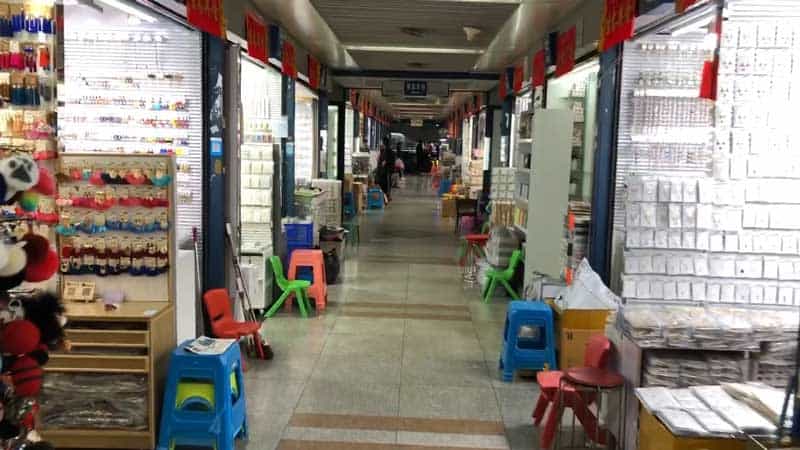 Our One-Stop Service
In short, our Yiwu market guide service includes airport pick-up, hotel booking, production monitoring, quality control, warehouse facility, shipment, shipping. Moreover, those procedures are necessary and important to customers, in that way, customers only need to focus on products and suppliers. That's what customers want when they come to China for business.
Clearly, they do not want to waste time going to different places to find proper suppliers. In other words, customers only need to go to market because all the suppliers are in the market. So how to find proper suppliers and products quickly? The answer is Yiwu market guide with Yiwu market agent like us.
Moreover, we know every corner in Yiwu international trade, so nothing is more important than the time when customers are on a business trip. Hence, we deeply understand that and we know what and how to serve customers in a better way.
Above all, below is the information about the whole Yiwu International Trade City, in the view of a professional Yiwu Market Agent. Most importantly, we hope the information helps you under our Yiwu market guide.
1F: artificial flower, flower accessories, plush toy, plastic toys, ordinary toys, air inflated toy, electric toy, common toy.
2F: hair ornament, jewelry. ( another article of 2F )
3F: festival arts, decorative arts, porcelain, ceramic crystal, tourist arts, travel crafts, photo frame, jewelry accessory.
4F: hall of Taiwan merchants(flower/ornaments/craft), direct sale center of manufacturer, factory outlets(toy/flower/ornaments/accessories)
1F: Fujian Mall (umbrella), poncho, rain wear & pack, umbrellas, poly bags, suitcase & bags (schoolbags).
2F: locks, electric products, hardware tools & fittings.
3F: kitchenware & sanitary ware, home appliance (shaver).
4F: Anhui Hall, Hongkong Hall, Sichuan Hall, Korean Commodity Hall, Yueqing low-voltage apparatus, hard ware & electric appliance.
5F: foreign trade organization agency, roof parking lots.
1F: suitcases & bags (schoolbags).
2F: hardware tools & fittings, vehicle class, vehicle.
3F: clock & watches, telecommunication equipment, electronic instrument photographic equipment, batteries light & lamp & flashlight.
4F: electronic, products luggage area, clock & watches.
5F: commodity foreign trades, foreign trade organization agency, featured products, export agencies, roof parking lots.
-1F: the year picture calendar couplet, wall calendar & couplet.
1F: pens & ink, paper articles, glasses.
2F: office supplies & stationery, recreation sporting articles, sport equipment.
3F: cosmetic, beauty products, mirrors & comb, beauty products, apparel accessories.
4F: cosmetics, stationery & sporting articles, factory outlets-cultural & sports, factory outlets-apparel accessories, factory outlets-cosmetics/beauty products.
5F: the imported commodities mall, off parking lots.
1F: sock, leggings, atrium, indoor parking lot.
2F: hat & cap, gloves, daily consumable, earmuffs, daily necessities, other knitting products.
3F: towel, wool yarn, shoes, lace, necktie, tie, lines, caddice, sewing thread & tape.
4F: scarf, belt, bra & underwear.
5F: shoes, daily necessities, garment, tourism and shopping center, frame/accessories.
1F: African products heathy products, heath care products, handicrafts, clothing shoes and hats, other imported goods, jewelry, textile & others, food liquor, clothing & household articles.
2F: bedding, Chinese knot, DIY handicraft.
3F: knitted fabric, knitted cloth, curtain cloth, curtain fabric, fabric & textile raw materials, needle woven fabric.
4F: car necessities, car & motorcycle accessories, commodity distribution, auto parts & accessories, auto supplies.
5F: online services, virtual shops.
In short, above are all products in 5 districts of Yiwu market. Meanwhile, Yiwu is still building other markets to attract more customers in the furture. However, we will update on our blog soon.
Above all, you could click links to know more who we are, what service we have, more blogs about Yiwu Market, Keqiao Market Guide, Sourcing Case, Shipping Case.
Welcome to contact us for more details about Yiwu market guide, we are the professional Yiwu market agent you are looking in the Yiwu international trade city. Moreover, we deliver what you want. Click here to get another view about 2nd floor.
In short, on one hand, our one-stop service will make your sourcing easier, you do not have to worry about any other procedures, our service takes all into consideration. On the other hand, not only do we take care of goods in China, but also assist customers with customs clearance.
We have a whole set services called one-stop service, which is customized for customers. For example, the market guide is one part of our service, help customers save lot of time.
In conclusion, we know what customers want when they come to China. Most importantly, with our export experiences, we believe we can serve customers of good quality. Therefore, customers are in good hands when they work with us.